Aerial view of T.C.R.S.D. plant, April 2020
Turkey Creek Regional Sewer District (TCRSD) is located in Cromwell, IN, and serves the area of the Turkey Creek Watershed. TCRSD has more than 32 miles of sewers and over 2500 connections plus 237 water customers around the watershed. This is one of the largest districts in the state and is constantly growing. The latest expansion to the district was completed in October 2019.
The plant's role in protecting, not only lake water quality but surrounding groundwater, is critical: these lakes are some of the most popular recreational lakes in the Midwest. Vacationers from as far as Chicago and Indianapolis visit the lake area to enjoy boating, swimming, fishing, and all the area has to offer.  Many single-family homes, as well as condominiums, businesses, marinas, and sailing clubs, occupy the shoreline of these beautiful lakes.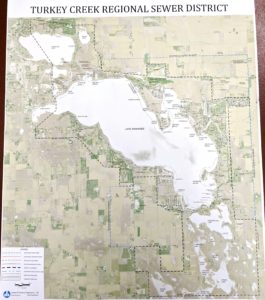 Turkey Creek Regional Sewer District map as of April 2020